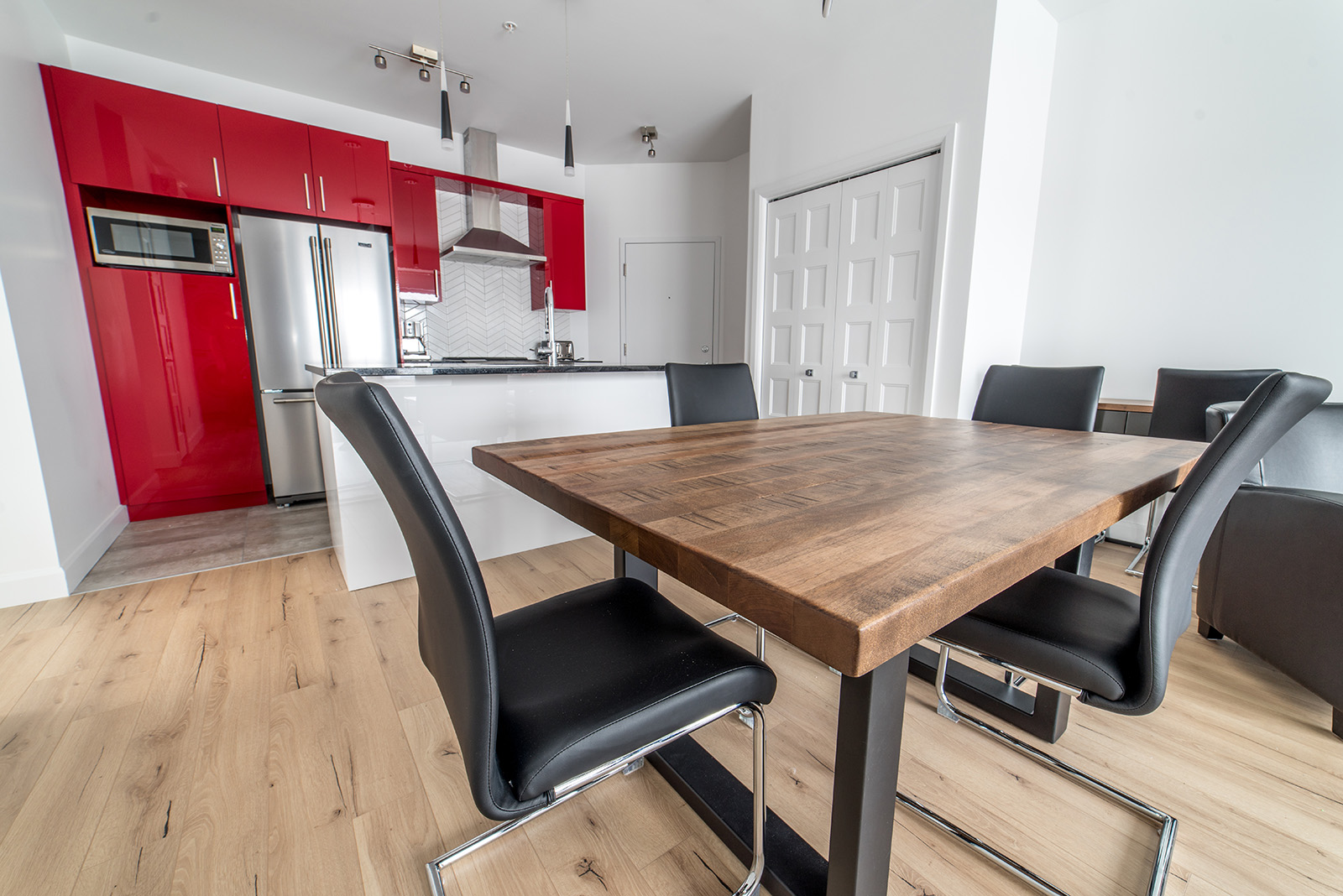 Welcome to the
Havre Urbain
"The Kameleon"
Tourist Penthouse located in trendy areas of Quebec City (St-Roch) and close to the historic center. Includes indoor parking and elevator to facilitate your stay. The prime location will give you access to a multitude of activities, restaurants and amenities in the surrounding area.
Have a good stay.
Frédéric Armstrong, Josée Pilote,
Marc Thibault et Paule Lacasse, propriétaires.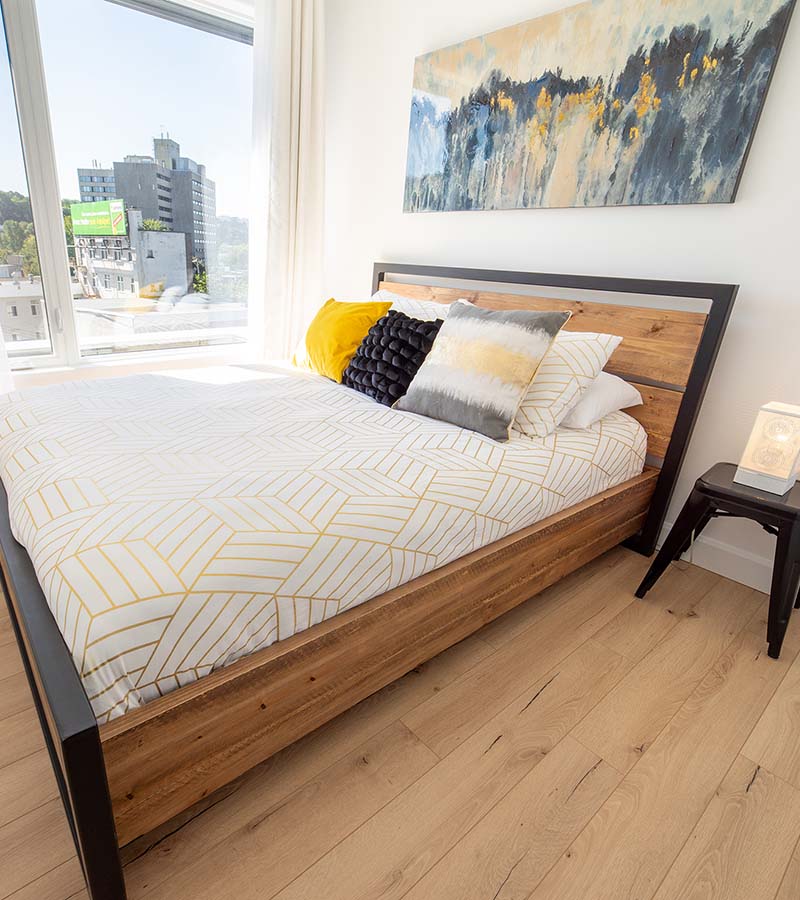 Installations
and amenities
Beautiful Penthouse 765 sqft located on the 6th floor of a new building. City view, large private terrace with table and BBQ, abundant fenestration in the 2 bedrooms and in the main room and underground parking. Ideal location to visit the City of Quebec, lively district all year with all the shops nearby: restaurants, cafes, bars, grocery, bakeries, etc. Owners available, impeccable service and careful maintenance.
Attractions
et activités
Housing 611 is located in the St-Roch district, in the heart of downtown, at the junction of Charest and Langelier boulevards and St-Joseph and St-Vallier streets. It is easy to quickly reach the historic center of Quebec on foot, by bike, by public transport or by car. All main roads are nearby which will allow you to quickly reach the other attractions of the city. Restaurants, grocery stores, cafes, bars, bakeries and a host of other high quality shops are all within a short walk. These are open all year and are popular with locals. We have several addresses to suggest you! The walkscore website grants the condo's location a mark of 96!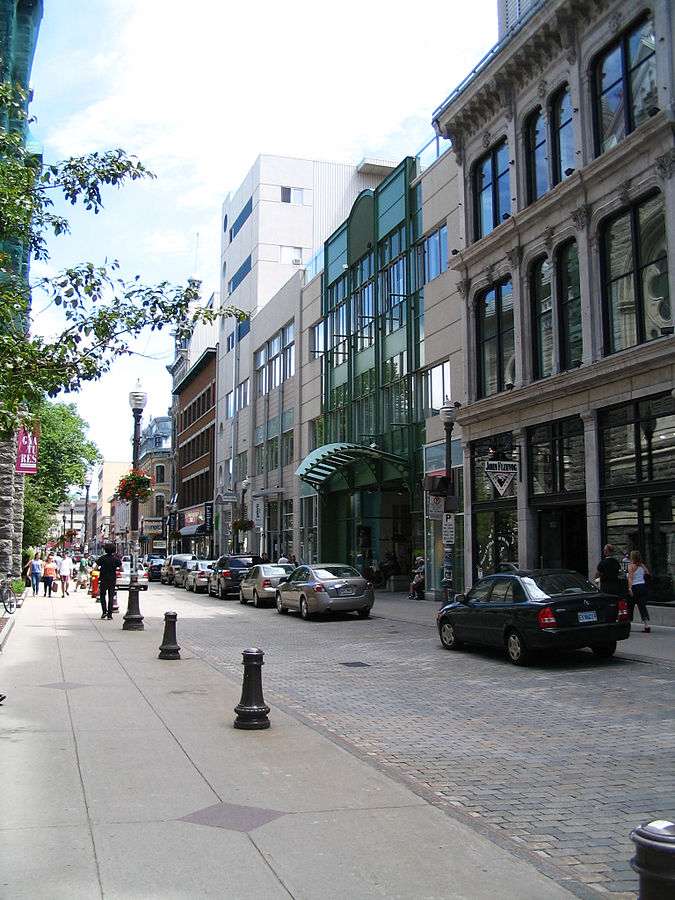 Guest Book
Some comments from our customers...
Absolutely beautiful space. A ten-minute drive from the old town, Frederick's Square was extremely clean and tastefully decorated. There are so many good restaurants nearby.
Vivianne | June 2018
Five of us journeyed to Quebec City for a long weekend birthday getaway and Frederic's place was perfect! The condo was clean and well supplied with everything we needed for our stay. We enjoyed the espresso maker and made several of our meals in the well supplied kitchen. If we had stayed longer, being able to do laundry there would have been a sweet perk. The condo was centrally located and yet so quiet you would never have known it! The beds were comfortable. I appreciated Fredric's prompt and helpful communication. The welcome package he emailed to us was invaluable! He was able to direct us to local treasures that were not on the tourist map and was great with English! The area within blocks of the condo had some fabulous bakeries, breweries and restaurants. We were able to park our van in the underground parking and walk everywhere. The hike to the old city was a good workout of half hour uphill! We caught an uber once, but other than that we enjoyed the walking! All six of us said we would definitely stay again! Merci Frederic!
Brenda | March 2018
The condo is very nice, well arranged, with all the necessary equipment and modern. The bedding is comfortable, the terrace is superb and is a real plus. It takes about 25 minutes to be in Old Quebec otherwise there are many buses. Many restaurants 5 minutes and a supermarket. It is located on a large boulevard but remains calm. The parking is also very useful. Check in and checkout are very convenient.
Nath | August 2018
The condo is particularly well equipped with furniture and bedding or appliances. In addition all the usual products are provided, which is very valuable when you are traveling. The parking space is a major asset when we know the parking difficulties in Quebec. Finally, all the necessary information to stay are listed in a folder and are even sent by email before the stay. The owners are available, responsive and cordial.
Michael | May 2018
A comfortable weekend in a beautiful apartment with a good value for money. The beds were comfortable, the apartment very clean, the equipment provided was very helpful, the view from the balcony was very nice.
Camille | May 2018
(From Homeaway-Five Stars)-The apartment was perfect for what we were looking for. 2 BR with a sleeper couch was plenty of space for a family of four. The check-in process was very seamless because the instructions are written very carefully and clearly. While we tend to eat out on vacation, the apartment looked well-equipped to cook there. We particularly loved the deck for coffee in the morning– and did not take advantage of the communal deck or fitness center– these are all things that would make this place convenient. It's very close to the main street of the Saint Roch neighborhood, and walkable to the historic part of the city (though note the hills) and if one is not into walking, there are convenient bus routes. For us, that was the goal — to park the car during the stay (parking garage is included) and enjoy no hassle with trying to drive around the city. Overall, a great experience. There was an issue with the building elevator while we were there, which Frederic reached out about proactively. From my perspective, it was unfortunate, but I don't know what the property owner could specifically do in this case– besides what he did, which was generously offer to help move luggage for check-out. And which we declined as it was not that big a deal. Overall, we had a great experience in Quebec city.
Heather | July 2019
(Translate from Airbnb)-An exceptional Airbnb I absolutely recommend. Ideal location, easy access and parking. Quiet apartment, very well equipped and tastefully decorated Superb terrace with BBQ Beautiful view of Parliament Hill Immediate proximity to many shops Small half hour walk from the tourist sites of Quebec, bus at the foot of the host residence available and responsive. Obviously this is where we will come back during our next visits to Quebec City.
Yves | July 2019
Contact us
Phone:
FRÉDÉRIC ARMSTRONG
Cell: 418-561-4262
Email:
info@auxhavresurbains.com
Le Kaméléon
20 Boulevard Charest Ouest
Ville de Québec, QC
G1K 1X2